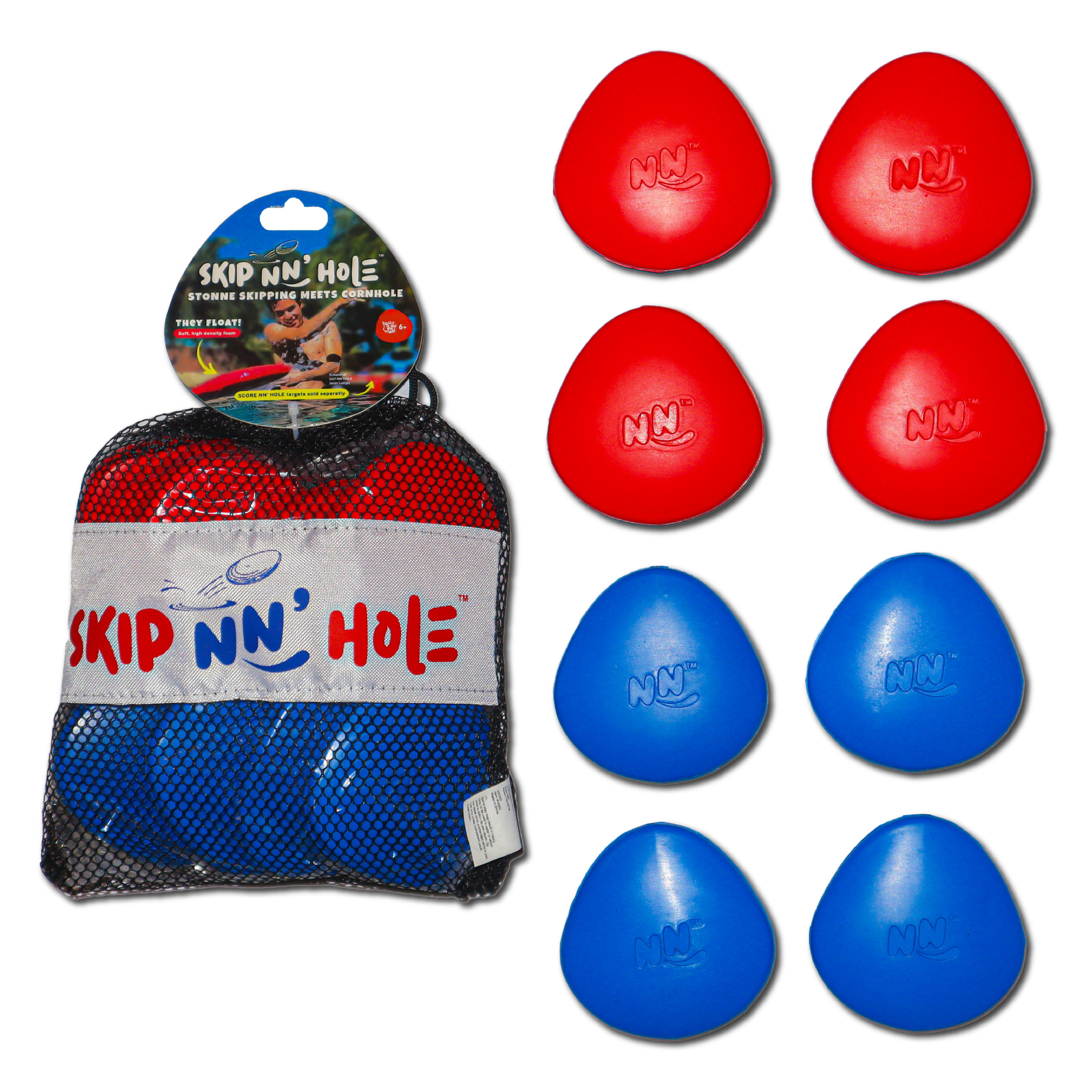 SKIP NN' HOLE Game MODE | Targets NOT Included | Skipping Stones MEETS Cornhole | QTY 8x
ULTRA SQUISHY: THEY WERE SOFT BEFORE BUT NOW THEY'RE EVEN SOFTER! Soft, high density foam ensures that it is safe to play with the kids and will not damage the pool.
NEW 1 VS. 4 GAME MODE: Since you already have the red and blue stonnes from purchasing your game set, you can now compete individually with the yellow and green stonnes to see who the best stonne skipper really is!
PRO PERFORMANCE: The slightly increased weight and the pliability of these stonnes allows you to skip even further. Recommended for all the pro skippers out there playing SKIP NN' HOLE from distances of 20ft or more!
GUINNESS WORLD RECORD HOLDER HELPED DESIGN YOUR STONNES:

 

Kurt Steiner the record holder with 88 skips helped design your perfect skipping stonnes.
THEY FLOAT:

 

 They float for easy retrieval.
--------------------------
UNLOCK THESE NEW GAME MODES WITH THIS ADD-ON:
1) All 4 players start on one side each player having their own color of 4 skipping stonnes. Take turns skipping at your SKIP NN' HOLE targets. At the end the winner  of the round who scored the most points gets 1 point. First person to 11 points wins!
2) Or play first person to get to a cumulative total of 50 points. Not necessary to subtract any points for this game mode. Everyone can just keep adding their points to their overall score after every round. 
Leave us a review and let us know how you like to play!
--------------------------
Additional Information:
SKIP NN' STONNES ARE FUNN' FOR ALL: Easy to learn, perfect for any pool, and lasts many seasons.

INTUITIVE: Fun for pros and newcomers, easy to learn but difficult to master.

PLAY ANYWHERE: Perfect for the backyard pool, lake, ocean, river, lagoon, can also be used with the Skip NN' Hole Game Set.
Includes:
4x green & 4x yellow foam skipping "stonnes" in a mesh bag OR 4x red &4x blue foam skipping "stonnes". 
All orders are shipped locally from our facilities in Arizona. Once an order is placed, we will prepare and ship the order within 72 hours.
If you have any changes for your order please contact us as soon as possible.
We have a 30-day return policy, which means you have 30 days after receiving your item to request a return.

Learn more about our refund policy here.
Can't wait for your order to arrive? Go to any of our retail partners to buy yours today!
Unlock This Game Mode
Buy A Game Set
This Game Mode Requires A Game Set
Family loves it
My family is loving this…
New color skipping stones
I enjoyed the new stones because I liked how squishy they where and they were easer the skip. Also I liked that there was more colors so more people can play the game.