Skip NN' Fetch Dog Toys (QTY 2 Stonnes)
DURABLE / HIGH QUALITY: Strong rubber material.

EASY FOR DOGS TO RETRIEVE AND CARRY: The thin stonne design makes retrieving much easier. Say goodbye to the boring old tennis balls that stretch the jaw and make it hard to carry.

PLAY ANYWHERE: Perfect for the backyard pool, lake, river, ocean, or on land.

SKIP NN' FETCH IS FUNN FOR ALL: Fun for pros and new skippers, easy to learn but difficult to master

GUINNESS WORLD RECORD HOLDER HELPED DESIGN YOUR STONNES: Kurt Steiner the record holder with 88 skips helped design your perfect skipping stonnes.
Product Description:
Skipping Stones Meets Fetch! SKIP NN' FETCH comes with two durable rubber skipping "Stonnes"! Enjoy these durable floating skipping Stonnes at the pool, lake, ocean, river, or pond. The Guinness World Record Holder with 88 skips helped to design your perfect "Stonnes". They fit perfectly in your dogs mouth, making it a lot easier to carry when they are swimming.
INCLUDES: 1X RED, 1X BLUE SKIPPING STONNE DOG TOYS, & MESH BAG
All orders are shipped locally from our facilities in Arizona. Once an order is placed, we will prepare and ship the order within 72 hours.
If you have any changes for your order please contact us as soon as possible.
We have a 30-day return policy, which means you have 30 days after receiving your item to request a return.

Learn more about our refund policy here.
Can't wait for your order to arrive? Go to any of our retail partners to buy yours today!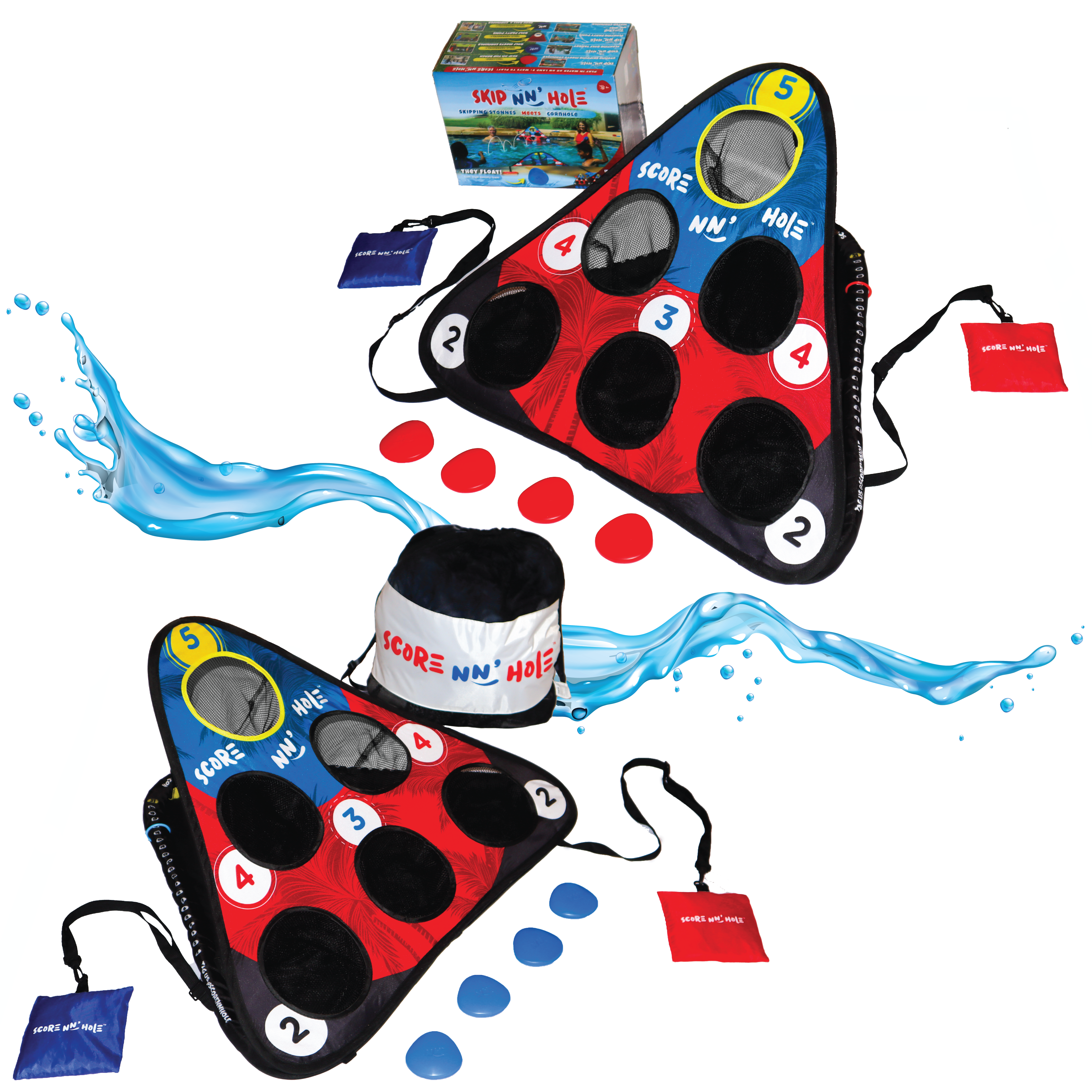 Unlock This Game Mode
Buy A Game Set
This Game Mode Requires A Game Set
HIGHLY RECOMMEND!!!
One of the best water toys ever! I have two Frenchies and my friend has a Cane Corsa. Dante the Cane Corsa was very new to using the pool (never swam before) and not a dog that loved to retrieve even on land. After introducing these Stonne skipping rocks he actually left the Baja shelf without "help" and couldn't resist getting to one!! We were absolutely thrilled!
Basically he became both a swimmer and a retriever of pool toys!! As far as my Frenchies go, they already were obsessed w water but stay on the Baja shelf unless "helped" into the pool. They have never grabbed up something they want on the RAPID swim back to their comfort area (Baja shelf). My Theo grabbed the floating Stonne and proceeded to safety!!
They can't resist the skipping of the stone. Next goal, getting Theo to leave the Baja shelf on his own for one of them!!
HIGHLY RECOMMEND!!!
We took your feedback and reduced the price :) Thank you for your support!